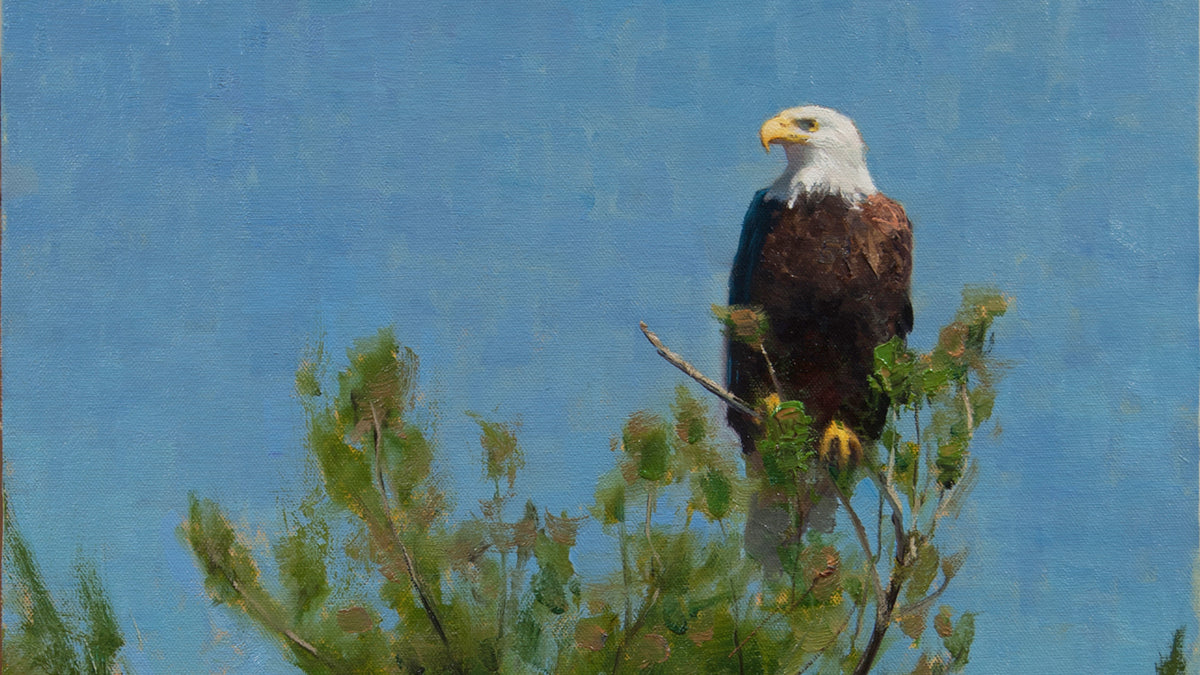 "THE RETURN" Painting an Eagle
I had the good fortune of coming across this mature eagle perched in a white pine in Acadia National Park. It graciously posed while I grabbed my camera and zoom lens and I began taking pictures as quickly as I could.
As many of you know, I prefer to paint directly from life. It's the best way to create an authentic-looking piece of art. However, I am also happy to paint using a combination of photo sources and plein air paintings. Once I decided that I wanted to paint the eagle, I went through the stacks of plein air paintings in my studio, searching for color information on white pines and blue skies. 
THE STORY
I have always loved birds of prey. My interest in them was a catalyst that started me down the road to studying art in college and eventually, oil painting as a profession. As a nine-year-old boy, I attempted to create models of every existing hawk, eagle, and vulture. I made them in scale to each other using a ratio of 1-inch equals 1 foot. Most of my inspiration came from the raptors I saw in the fields and woods around my home in Addison County, Vermont. 
I SAW RED-TAILED HAWKS, HARRIERS, TURKEY VULTURES, KESTRELS, PEREGRINE FALCONS, EVEN AN OCCASIONAL OWL, BUT NEVER EAGLES. 
Bald eagle numbers fell from an estimated 100,000 nesting individuals in the late 1700s to near extinction by the mid-1900s. In 1963 there were only 487 nesting pairs. This decline was owing to many factors, most notably the use of the pesticide DDT which was a chemical used to curb mosquito populations. As this pesticide worked its way through the eco-system and up the food chain, bald eagles began to consume fish that were contaminated.
The horrifying effect was that the poison weakened the eagle eggshells causing them to break under the weight of their roosting mothers. Thankfully, the fight to save the eagles began in the 1970s, but still, during my childhood there were no nesting pairs in Vermont. The good work continued, though, and in 2007 the bald eagle was removed from the list of Threatened and Endangered Species. These magnificent birds have returned, and now I see them frequently.
My painting, The Return celebrates the story of the bald eagle's journey back from the brink of extinction.